Dr. Bell Opens 2006 With a Win! - 01/07/06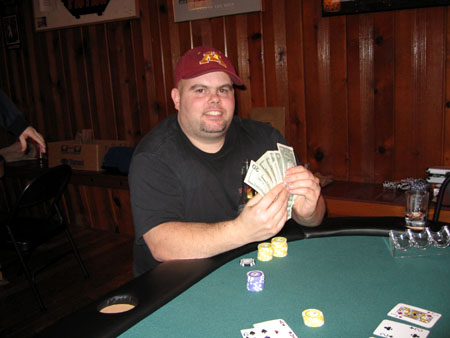 January brought us our third season of the Little League World Series of Poker. This year, we introduced the optional single re-buy to the game and besides offering redemption to those with short stacks, it also grew the prize pool to over $400! Players were excited to have a chance at winning the first game of the season and also to take a spot on the fresh points board!
Mike "Dr." Bell took on Rebozzi's lucky shirt and won the big prize and the top spot on the 2006 leaders board. After finishing two spots out of last place in December, Mike impressed the field with his strong finish in the first game of this new season.
Points Champions Tournament
Even before the first game of 2006 began, we had plenty of tournament action as the top eight points leaders from 2005 sat down for one last game. Ken Low played solid poker all year, but managed to fall in the first hand to Rebozzi. Steve's lucky shirt took him to the final two, but Chris managed to have just a bit more luck as he won the championship game!

Chris Johnson
1st Place

Steve Rebozzi
2nd Place