"Irish" Steve wins the first 2005 tournament! - 01/08/05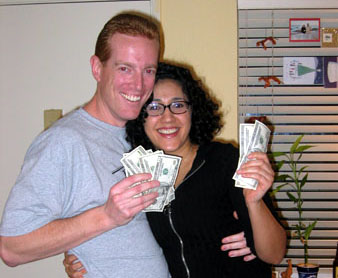 Call it destiny, but I had a feeling that I would end up playing Tabi head-to-head for the championship as soon as she made it to the final table. I had a worse feeling of impending doom when she ended up with all of the pink $500 chips in her stack! Most of the spectators were pulling for Tabi to win and that seemed like a reality after I put her all-in two times in a row only to lose both hands. After gaining some composure, I was finally able to knock her out to win the grand prize!
The first tournament of the 2005 Little League World Series of Poker started off with a great game and just about everyone had a taste of the action. We're starting a new points board this season to keep track of the most consistent players of the year and at the end of the season, a prize will be awarded to the champion points leader. Keep an eye on the poker page for points totals and for dates of future games!
Thanks for everyone who made it out to the tournament and for all the new players that helped to make the action great!