Ken Low Starts 2010 With Strong Finish! - 1/09/10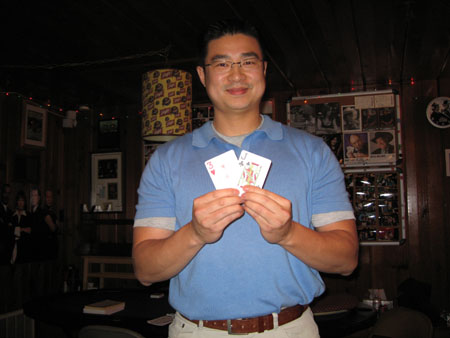 The new season of the Little League World Series of Poker brought us a fresh points board and lots of poker resolutions. Before the start of the January tournament, many players were talking about what they wanted to accomplish in the new season. Chris Hill wanted to make it to the second break. Gina wanted to see the flop (just for the Hell of it.) Jim South wanted to make it to the final eight game. Donald... Well, Donald just wanted to get all-in. Of course, Steve Pait just wanted to get in there and shuffle!
Everyone wanted to get a good finishing spot for the first game of the year and for Ken Low, it was time to take down the top spot. Ken faced some tough head-to-head play versus Damon Ducks Rivera and eventually topped the field of 29 for the January victory. Ken has been turning in some strong finishes when he plays, so we can only hope that his travel schedule is tough this year!
For the rest of us, the season is brand-new, so anyone has a shot at winning a monthly title and possibly a spot in the 2010 Final Eight!