Mike Allen Wins First Game for 2009! - 1/10/09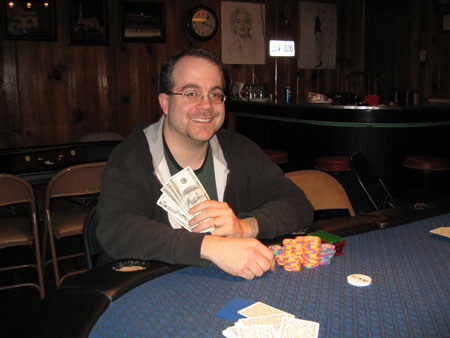 The 2009 season began with a new tournament structure with more chips and a few extra levels. Most predicted that players would not be eliminated until after the first break, but one amazing hand knocked out two in the first round! Four players managed to get all in after the flop when Dan pushed with a diamond flush draw, Dick pushed with the nut flush draw, Steve Rebozzi called with trip 3's and then Ken Low called with the top set of tens! It all came down to the last card when the river diamond gave Dick the top hand, eliminating Dan and Ken.
Even with the early action, the new structure spread out the play through the first two breaks. Dick still had a large stack at the final table, but was eventually knocked down by Chris Johnson and Mike Allen. Ater short head-to-head action, Mike was the winner of the first game of the season!
Irish Steve Wins Final 8 Championship Game!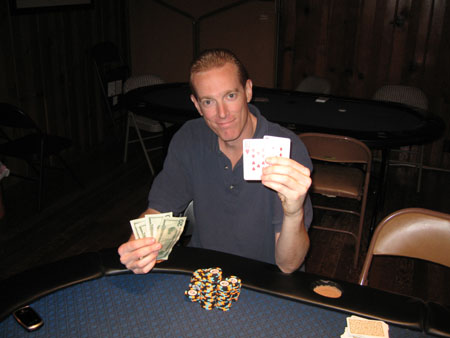 Every January, the LLWSOP celebrates the top 8 points leaders with a championship Final Eight game. This year, the table featured Dave Sigua, Mike Dr. Bell, Jim South, Mike Allen, Irish Steve, Dick Rebozzi, Chris Johnson and Dan Shahin.
Dan took the lead in the first half of the game by eliminating several players, but head-to-head action came down to Mike Allen and Irish Steve. After the chip lead changed hands a few times, Irish was able to knock out Mike to win the Championship!