LLWSOP Celebrates Gina Galza Day! - 02/03/07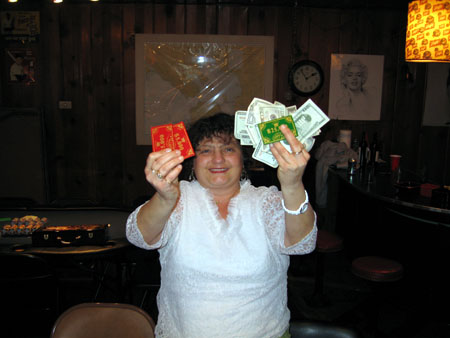 Of course, there's no such thing as Gina Galza Day, but it sure seemed like it at the poker table. If you wagered your chips against the "Poker Wrecking Ball" they were sure to be gone. She eliminated most of the players at the final table and at one point, she knocked out two at the same time! Her stack wavered when it got down to three players, but you were foolish to believe that she would have anything less than victory. Come on! It was Gina Galza Day!
We started with 24 players spread between three different tables and competition was pretty tight for the final table. I was lucky enough to have weakness to my left and without his pocket twos, Damon "Ducks" Rivera was first out when it got down to ten players. The Rebozzi clan finished well with Steve taking fourth and Dick taking third place. Jim "secret-weapon" Moorman ran out of bullets and took second place when he went up against Gina's stack.
This month, we started our head-to-head tournament and Dan, Jim and the Dr. won their first games. It looks like the new tournament is going to give everyone some great competition, so check the board and see when you can play your next opponent.
See you next month!