Kevin All-in Wu Raises; Razes! - 2/07/09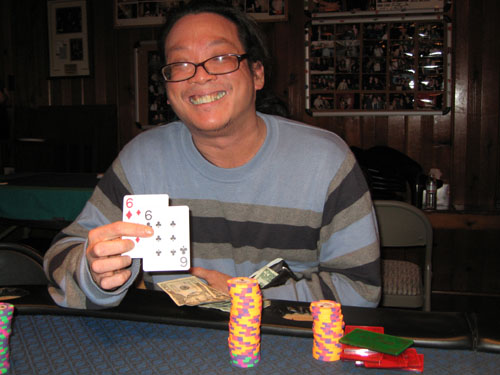 Somewhere in the middle of the tournament, Steve Pait was put to the test. His opponent's bet would push him all in if he called and so he went into the tank. As time ticked by, he thought and thought about calling or folding and the other players began to wonder just what he could have. Two pair? No way! He would call with that! Top pair, with a decent kicker seemed to be most likely. Eventually, with defeat in his voice, he mustered a call and turned over... TRIP JACKS! Without the big flush or straight evident on the board, I guess you would have to call that the slow roll, all-in call!
I told Steve I was going to give him a hard time about this one, so there you go!
Besides that hand, players were impressed by Paul Chinn's final table appearance. Most know that he has a pretty big brain, but he's still pretty new to the game. His strong finish only needs a little more strategy and then the rest of us will probably have to take cover!
Speaking of being covered, Kevin all-in Wu had me covered a few times over when it came down to head-to-head action. There's nothing better than Wu bounty money, but our big match lasted only a single hand as my A8 was defeated by Kevin's pocket sixes. Of course, next month all of us will have a shot at that bounty!