Jim "The Student" Moorman wins! - 03/04/06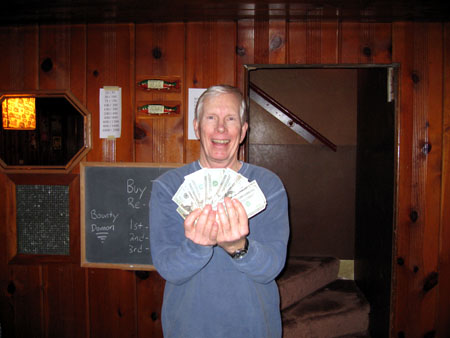 He reads. He studies. He watches. He practices... But he doesn't win! Until now!!! We have been waiting for some of the poker books to pay off for Jim Moorman, but it looks like all the studying has finally given us some results. Jim "The Student" Moorman took first place in March after recently finishing the fist "Harrington On Hold 'Em" book by Dan Harrington. I haven't read the book myself, but everyone who has read it says that their game has improved quite a bit.
This month, the game looked like it was going to run late, but the action heated up when we got down to the final five players. Ken and Tabi were eliminated on the bubble and then Dan "The Man" Shahin tried a little "experimental" poker and was knocked out with 7/2 offsuit. Jim Moorman turned into a card rack at the final table and piled up a pretty good chip lead with all his great hands. On the first hand of head-to-head action, he beat "Irish" Steve's pair of aces by catching his inside straight on fourth street.
For next month, the April game will be on Saturday the 1st, so I'll see everyone there!