Dan Shahin lives up to his own hype! - 03/05/05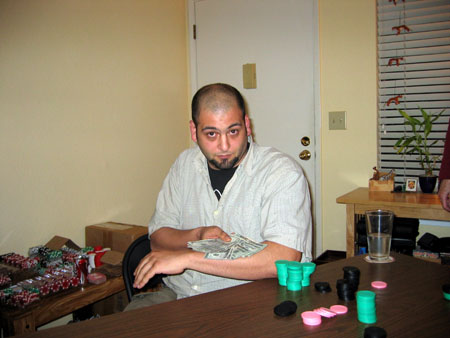 Whenever I go by Dan's shop to pick up some change for the game, he's quick to tell me who he's going to beat and how he's going to win the big game. "I've got Tabi figured out! and I know how to beat LA!" is what he often tells me. When game time rolls around, Dan is somehow distracted by something and his plans fall apart. This time, all the hype was true as Dan was able to avoid being distracted so he could concentrate on the cards. Overcoming LA!'s big chip lead, Dan was able to take first place and he becomes only the second person to win two tournaments.
This month's tournament was completely different than February's game because there was more big action and the first two players were eliminated in round one. The final four players all had a pretty good shot at the win, but luck (and the cards) gave Dan the victory. Teymour took a break from dealing to take second place in his first showing in the money positions and LA! found herself in a familiar winning place, taking third. After he left the game, there was some talk from the other players that Dan was the one who was going to be "figured out" before the next tournament, so April should give us a good game!