It's the Mike Allen Show! - 3/07/09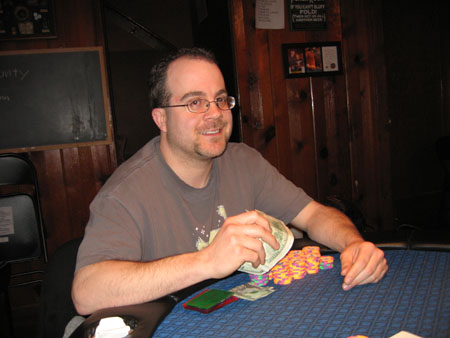 Did you want to win the tournament this month? How about just the bounty? Well, you had no chance because it as the Mike Allen show at the March tournament. Not only did he take out Mr. Wu for the bounty, but he also defeated Shawn Gray for the monthly championship. Mr. Wu was not far behind the top spot though, taking fourth place and Mike Sprugasci hit the money with third.
The top hand of the night took place early in the tournament when Fancy Dan pushed all-in under the gun with a pretty large stack. It looked like it was going to fold around until the button called with a pair of queens. Dan flipped over the 2/7 of spades and we were off to a flop! With a 3,5,6 on the board, you could see how ugly a four would be to the pocket pair. No four on the turn, but the river... A four!
That's what you get when Dan doesn't have his coffee.
And, if you missed it, Kevin Wu stated for the record, "This year, I GUARANTEE that I'll be in the final eight game!" Well, there you go. It's in the record.