Donald Glaude Cleans up in April! - 04/01/06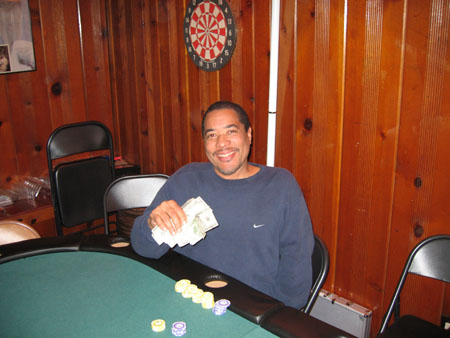 Donald might tell you that he needs to get home, but don't believe him. It's just a secret ploy to trap you into betting away all of your chips! Donald did eventually get to go home and go to sleep, but not before winning the bounty AND the April championship!
The April game can best be described as a "river" tournament with beats that can be described as nothing less than amazing! My hand was just one of many, but Kevin Wu's pocket aces were broken by a Queen/Ten offsuit when the eight, nine and jack fell to give me the straight. At the final table, the final card dictated the action and it was a wild table to witness.
Congrats to Donald on his first win and next month the bounty will be on his head!
The May game will be on Saturday the 6th, so I'll see everyone there!