Rebozzi: victorious, Shahin: defeated - 04/02/05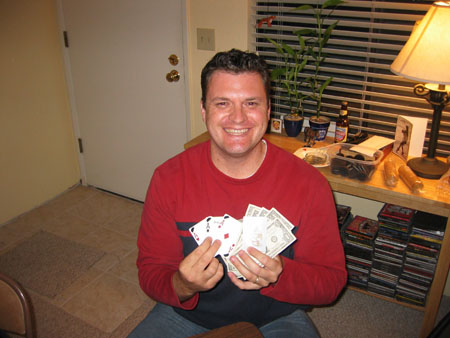 This month, Steve Rebozzi came armed with his lucky baby picture of his son Tanner and I think we'll be seeing quite a bit of that photo after Steve survived several losing hands to become the April champion. Pierre Lassalle managed to come back from his last three hundred dollars to find himself in a challenging position for the April title. He wasn't able to keep the streak going though and ended up in fourth, just out of the money.
Along with having a new champion, we also introduced our new "bounty" payment, given to the person who knocks out the previous month's champion. Dan Shahin was everyone's target this month and it proved to be just too much pressure for our previous winner. Dan was the first to be eliminated and was defeated with the knowledge that Teymour got his buy-in paid on the spot for taking him out.
For the first time ever, our final three players ended up all-in on the same hand and Steve took the hand down with three aces! He gets to enjoy the rest of April as the top player, but next month the bounty will be on his head!