Mike Allen on top for April! - 4/05/08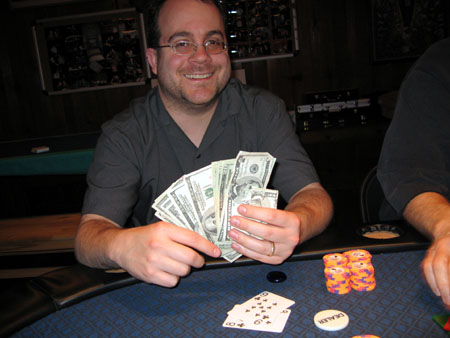 We had a pretty good crowd this month with three tables playing in the April Bounty tournament. Even with the extra incentives, it still took a while before we got down to a final table. In three handed play, Matt Johnson was all-in facing both opponents and managed to survive. Mike Allen was also down to one half of the big blind at one point, but dodged elimination as well. Eventually, head-to-head featured both of these survivors and Mike Allen took down the win.
For all the year of Pierre fans, we actually had something to cheer about. It appears that Pierre has read a poker book and those new skills were on display for this month's game. Not only did he not go out first, but he survived all the way to the final table! If he gets much better, we'll have to change the year of Pierre to the year of beating Pierre.
Take a moment to click on the bounty picture on the left. I have to say that in all the years of hosting this game, Chris was the happiest bounty winner we've ever had! See everyone next month!