Wu Survives Past The First Break... Wins! - 04/14/07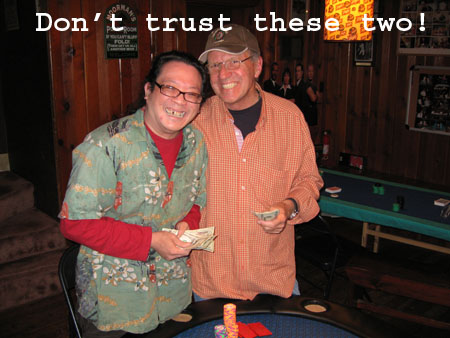 What happened to the old days? Kevin would wander in ten to fifteen minutes late and then be finished about twenty minutes later! Lately, Mr. All-In has been lasting beyond the first break and this time, he made it all the way to the end! It might have been the extra starting chips, but it might just have been some poker skills that have been hiding under the surface somewhere!
Nineteen players started the April tournament and just over four hours later, we were down to Wu and Rebozzi for the championship. Of course, head-to-head play lasted about 45 seconds and Mr. Wu raked in the last pile of chips.
For those of you in the "Beat Shahin" fan club, the bounty was collected by LA! when she took him to the curb and dumped him like a box of old shoes. Of course, he had the sad face going, but it won't be long before we hear about his "new, secret strategy" that will undoubtedly defeat everyone.
Speaking of being defeated, I decided to donate my chips to the Duck of Death because I felt bad that he didn't get to play in the main event with me in Reno. The things I do for my players...
Don't forget - The next game is Saturday, May 5th! See you at the game!