Mike Bell Takes No Prisoners! - 5/03/08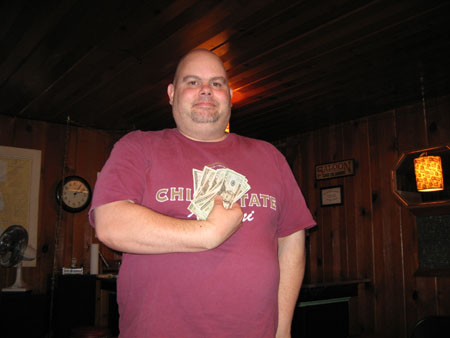 So, I'm playing in the open cash game before the tournament and I looked down to realize that all of my chips were gone! Scanning the table, it looked like everyone else suffered from the same realization. Where were all the chips? They were on Mike Bell's monster stack! And he wasn't done winning.
In tournament play, we were down to six players in a reasonable amount of time, but that's when play slowed to a crawl. The chip lead was passed around the table without an elimination for almost an hour. We thought about voting out one of the players, but eventually the blinds took over and we were down to Mike and Dave.
Dave had a huge chip lead and all he had to do was show Mike the door, but momentum was not on his side. Mike began to gather some small pots and after those added up, he took the chip lead when the board's four-straight fit perfectly with the 9 in his hand. A few hands later and Dave had disintegrated into second place.
Mike won the slot bonus, the open bonus, the tournament, and the most money in the open cash game. But, he didn't win the bounty!