South Climbs Back From Dead to Claim Victory! - 05/05/07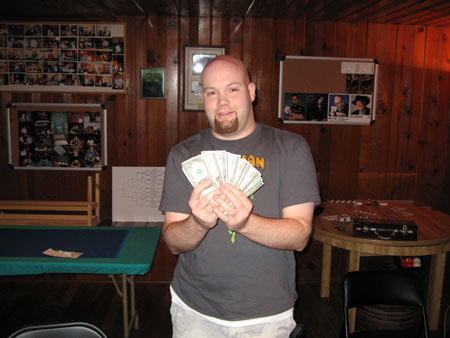 Jim dug out of a pretty deep hole to win first place this month. He was down to his last little stack of chips, but managed to stay alive long enough to make it to the final table. Once there, the dodged the tons of bad beats that were the trademark of the entire tournament.
Amy collected the bounty on Wu when her hand drew out to land a bigger full house than Kevin's full boat. In another beat, Irish Steve's trip sixes on the flop fell to Tabi's pocket kings when a king hit on the turn. Gina's big stack also ran into bad luck towards the end and she was knocked out when she couldn't catch her flush on the river.
On the other side of the luck coin, Jim South needed a queen to win the tournament and thats exactly what he caught on the river. Surprisingly, all the planets aligned allowing Pierre to attend the game and he also had good luck landing in third place.
Next month, the bounty is on Jim South, so I'll see all of you at the game!