Joe DiVittorio Back in Action! - 05/07/05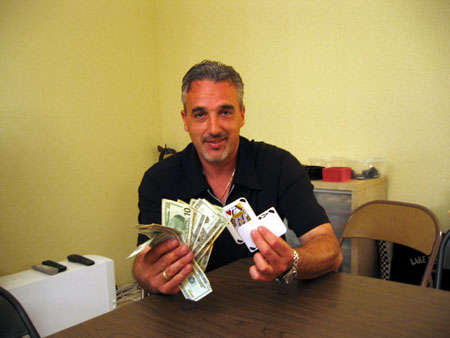 Joe hasn't been to the monthly poker game in a while, but he must have been off practicing because he managed to beat out the entire field of players to take down the May championship. Not only did Joe overcome the fact that three Rebozzi's were playing, but he also defeated Dan's lucky dog, Dr. Bell's magic shirt and Steve's Phil Laak Unibomber bust. Joe's winning hand came down to an ace/queen that paired aces over "Irish" Steve's jacks.
We were missing a few regular players this month, including Tabi-Roni, LA! and our points leader, Ken Lowe. We still had great action though with a few new players including Jim South, who managed to collect the Steve Rebozzi bounty payment with three tens.
Next month, the bounty will be on Joe, so bring your lucky pictures, dogs and other talismans and see if you can take down the May champion!