Chris Hill Survives Strange Final Table! - 06/02/07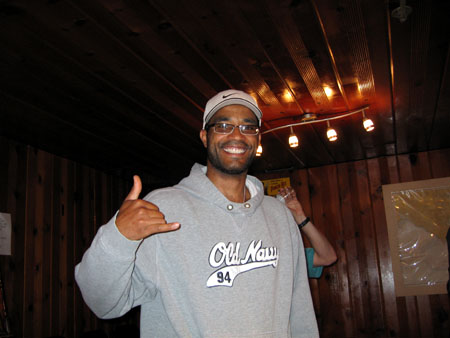 Many months ago, I was at the table when Chris Hill went all in with the very worst hand against Ken Low and took him down with the mighty 2/7! After seeing something like that, I wouldn't have expected many final tables for Chris, but last night he was on top of his game now, finishing in the top spot for the June tournament.
The final table was a strange display of incredible suck-outs and amazing draws! Jim South had all but left the building a few times and had to return when the river card gave him the victory. It looked like the final five players would play all night, but a three way all-in gave a big chip stack to Chris Hill and eliminated Irish on the bubble.
Final play came down to the chip leader Jacen Rivera, but that lead faded and Chris Hill took down the tournament with another good draw. For those who stuck around, it was one of the most entertaining final tables on record!
The next game will be on July 14th, so enjoy your 4th of July! Hopefully, The Duck of Death and I will have good World Series stories from Las Vegas by that point!