Jeff Mazzella Defeats Critics - 6/06/09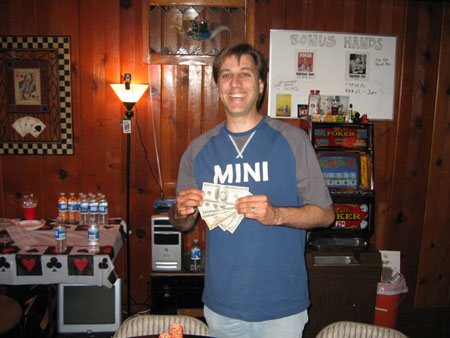 When you're playing in a poker tournament for eight hours and you're battling the final four players for the money, it's good to have some friends with you. That is unless you're Jeff Mazzella. As Jeff finished off the June table, he was flanked by Mike and Ben, who reminded him after each pot that he won that he was a terrible player! They did everything but poison his drink, but Jeff's chip stack was too big going into head-to-head action for anything less than victory.
Jim South came up with an interesting strategy going into this month's game that would have spared him from any kind of defeat at the tables. He toyed with the idea of simply sending us a check for the buy-in and saving the gas money for the month but he decided to show up for the game anyway. At one point, he had a pretty good sized stack, but the whole check idea was looking good again by the final table.
We seemed to be missing a bit of fear and loathing at the June tables, but it was mostly due to the absence of Donald Allinguy Glaude. The tables were still full by the second break, but eliminations increased by the seventh level. Despite the tauntings from the rail, Jeff was able to defeat Shawn for the June title.
We'll continue with the individual bounties next month and due to the 4th of July, the next game will be taking place on Saturday, July 11th!