Dan is The Man in July! - 07/08/06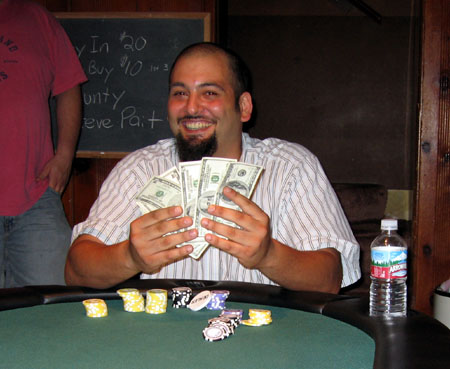 Dr. Bell was looking to play a 7/2 hand, but couldn't pick one up. Instead, Chris Hill found the hand and called down an all-in bet to win the hand. Ken Low couldn't catch the cards as Chris build up a huge stack going into the final four players. Eventually, luck ran out as he was eliminated on the bubble in fourth place.
Final play came down to head-to-head action between Dan and LA! and the action showed some pretty solid play. LA! went all in with a pair of sevens and was called down by Dan's King/Jack. The board didn't help Dan at all until the river card put two unrelated pairs on the board and LA's two sevens were counterfeited by Dan's King high kicker card. It was an odd way to win, but the victory gave Dan his first chanpionship for 2006.
The points board has tightened up and with more prizes this season, many players are in the running to gain positions with five games left in the season. The next game will be on August 12th, so the evite will be sent soon. See you in August!