Dave Sigua Doesn't Take Second - 7/10/09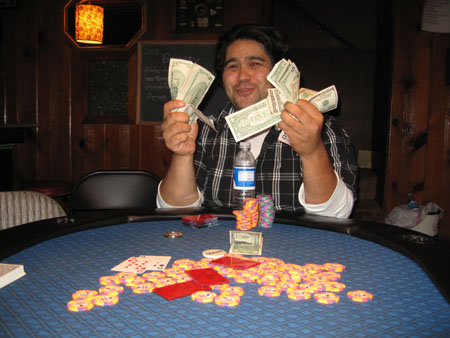 Dave had a pretty good lead going into head-to-head action this month, but even with the chip lead, a second place finish was pretty much guaranteed. Not that Dave can't win, but in every other final two appearance, he has never captured the top spot. Some call it bad luck, others call it the curse of Pierre. This month was the turning point though as Dave was able to take out Damon Ducks Rivera for the July championship, the huge cash prize, the big endorsement deals and the hordes of adoring fans.
We now have just five months left before the final game of the sixth year of the Little League World Series of Poker. The race for the final eight points leader positions will tighten up as this season continues and players will get answers to some important questions. Will Jim south finally just end up sending a check to the game? How many more times will Kevin Wu utter, "I'm so bad at this game." Will we ever see a Lassalle again at the tables? Will Steve Pait ever be removed from permanent shuffle duty?
Come to the game on August 1st and get answers to these and many other questions! Individual bounties will still be in play and don't be late for the start of the tournament! We want to be able to start the game on time for everyone!