Ben Eufemi is the New Chris Hill! - 7/10/10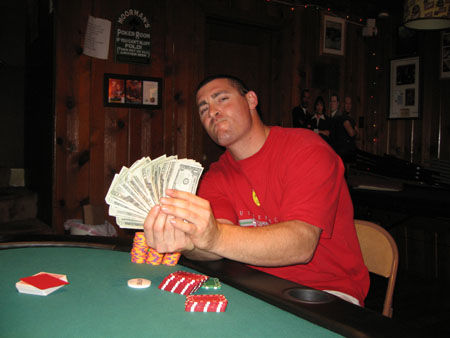 If you weren't at table one at the beginning of the tournament this month, be happy! Table one was the sole domain of Chris Hill and from all the talk at the table there was no way to defeat the Hill magic. He had good karma, lots of mojo, a rabbit's foot, a magic mandala, and by the final table he also had a monster stack!
Chris Hill's wall of chips was menacing but the final table brought a change in momentum and it wasn't long before Ben Eufemi looked down to realize that he had taken over the lead. As players were eliminated, Ben's immense stack grew to contain more than half of the chips in play! By the time head-to-head play began with Brian Garcia, Ben simply flicked him to the rail with a lowly Q/2 offsuit. The rest of the players didn't have much of a chance against the big stacks this month, but several players are already talking about revenge next month. The August game will be on August 14th this month!