Dick Rebozzi Needs Cards and Gets Them! - 07/16/05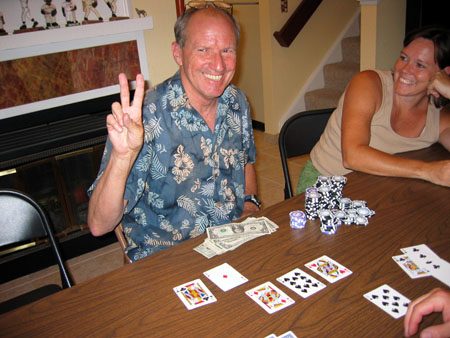 Dick caught just the right cards to take the victory this month, but some of his hands were just amazing! In one head-to-head all-in hand, he needed a queen to beat out a higher pair and caught it for the win. In another hand he was beaten by a straight and caught one of the remaining nines for a full house! Once his chip lead was built up, it was only a matter of time before he took first place.
We had some great hands this month and the call of the night was pocket aces vs. pocket kings. Ken Low used the pocket aces to take down last month's winner Joe DiVittorio for the cash bounty. When it got down to the final few players, it was just a race for second place because Dick's stack was just too big. We still had a great final table with lots of action, so don't miss the August game where Dick will be the new bounty target!