July Tournament's Big Weener! - 7/17/04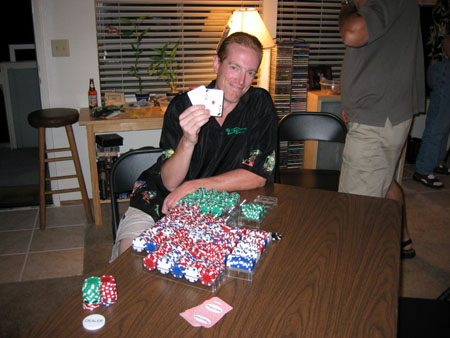 Wearing my $8.00 Fremont Street poker shirt, I had a feeling that I couldn't lose! That lasted a few hours until Pierre crushed me during the open games before the tournament started. He had every great hand that you could think of! Of course, he was sitting at my table when the tournament started and I knew that I had to knock him out! It took a while to finally eliminate him but once he was out, I felt that I had a good shot at first place.
I had a good chip lead early on, but wins by Damon and LA pushed me back to the middle of the pack. Even Joe was beginning to worry me after making a comeback despite coming from the other table with a short stack. The final head-to-head match came down to LA and myself and after gaining the chip lead, I was able to take first place with the Ace and eight of diamonds. Aces took the all-in pot and I finally had the $8,800 worth of chips in front of me! Too bad I didn't get that much in cash!
Thanks for everyone who came out and for those who braved the tournament tables. It was a good night of gaming and I'm looking forward to the August event!