Irish Celebrates Birthday with Victory! - 8/14/10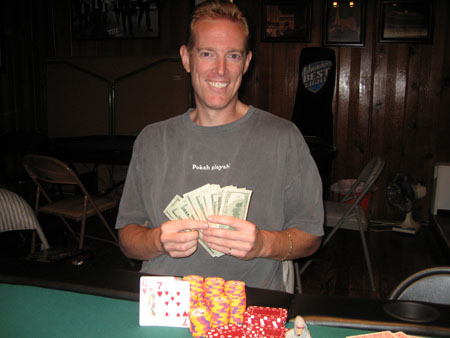 The final table of the Little League World Series of Poker ended up being a marathon this month! When we got down to the final six players, it looked like it would take a miracle to actually eliminate someone. Ken Low returned to continue his final table streak while Steve Shuffleboy Pait played a strong game and came back several times from a short stack to challenge for the money. Devastating Devin was able to outlast Steve on the bubble, taking the fourth place spot.
Bonnie was a little harder to eliminate and in the span of about 30 hands, she was all in with pocket aces three times! Irish eventually knocked Bonnie out with a weak ace vs. KQ and then only Chris Hill was left. Head-to-head action lasted only two hands when Chris turned a wheel while Irish made his flush on the same card.
We are down to the last four games of the season, so the points championship will tighten up as those with eight games will be able to drop their lowest scores. Keep your eye on the points and good luck for everyone shooting for a spot in the final eight!