Back-to-Back Irish! - 9/4/10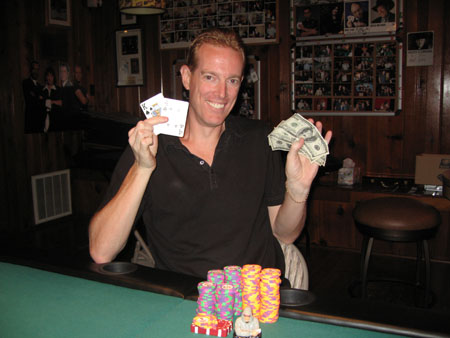 Players who were looking forward to collecting the bounty on Irish Steve will have to wait another month! The good news is that the the bounty will be doubled unless Irish can win a third game in a row. This month, the game ended a bit earlier than usual, but the smaller holiday crowd of two tables still had some great competition.
When the game got down to the bubble, players were willing to gamble and Jim Moorman ended up just out of the money when he put most of his stack in the middle with pocket twos. Brian Crews was the next player to fall when his A/K was defeated by the 4/7 of Irish, who made a straight on the river. Ben Eufemi was taken out next when Irish slow-played a flopped two pair that held through the river. By the time head-to-head action started, Chris Johnson didn't have a big enough stack to compete and he was eliminated in second place.
With only three games left in the season, now is the time to make your moves on the points board! The competition for the final eight spots is heating up!