Brian Garcia Takes Down September! - 9/05/09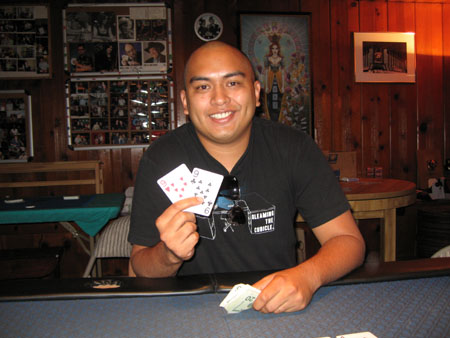 Most of the time, one or two players have a pretty large stack going by the time the final table is seated. This month, the chips were spread evenly between the last ten players and it looked like that game was going to run late. When the action was down to the last five players, it looked like JP Rebozzi was going to finish in the money, but his chip lead was not enough to get him past the bubble.
With the blinds increasing, the chip lead moved from JP, to Ken Low, then to Brian Garcia. As head-to-head action started between Irish Steve and Brian, Irish had the best of it but back-to-back losing hands gave the championship to Brian Garcia. It was a pretty tough final table and with the challenge for the final 8 spots on the points board ongoing, the win was tough to come by.
With only three games left in the season, competition on the points board is going to tighten up as players drop their lowest scores. Just about everyone in the running still has a shot at the top spots, so the next few games should be interesting. The good news is that if Steve Pait makes the championship game, we'll have someone to shuffle for us!