Irish Steve Takes Down September! - 09/08/07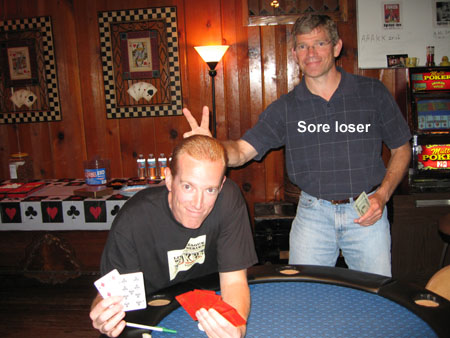 September featured two very different tables. One was loud and active and the other was more quiet and calculating. In true poker fasion though, we all came together to defeat each other! Many players went deep into the second round and there weren't many eliminations. Once the final table was formed, players sped up and many were knocked out.
At table one, Ken Low took some abuse as the dealer of all cards bad. That seemed to change when head-to-head action came down to Chris and Irish Steve. It looked like they could play for some time, but the game actually came down to just two hands with Steve's three nines holding up against the straight draw.
When asked for a highlight for September, Ken Low responded, "It has to be Donald's call of 'no-peak stud' during the open. I just love that game!" With such a strong endorsement we might just have to play it again next month!
It's not too late to get into Cheryl's baby pool. Squares are still available so contact the management for further details!