Allen Takes Out Rebozzi for Sept Title! - 09/09/06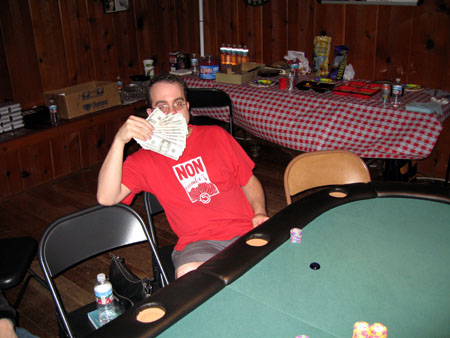 The September Little League World Series of Poker featured a few new features. This was the first month for the bonus payout and Damon Rivera and Mike Lassalle took advantage and started the tournament with 300 extra chips! Speaking of chips, players were happy to find brand-new Paulson chips when they received their seats.
In early play, "Irish" Steve took an early hit running against Donald Glaude's full house and was the first to rebuy. Most of the other players were ready to take out the rest of his stack and collect the bounty. With a little luck, that didn't happen until deep into the final table. New players Mike and Amy Allen joined "Irish" and Dick Rebozzi as the final four players.
Amy took fourth place and then Mike collected the bounty by eliminating "Irish" in third place. In head-to-head action. Dick got his money all-in with the best hand a few times, but luck was not on his side and Mike took down the championship!