Chris Johnson - Comeback of the Year! - 10/01/05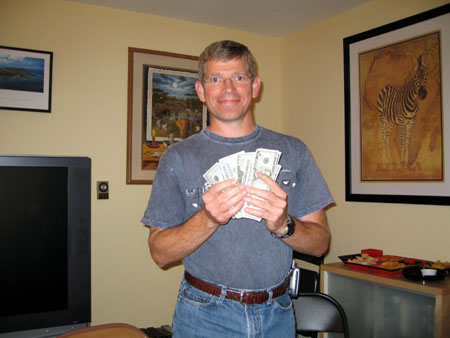 You had to be there to see it! Chris Johnson was down to his las $400 at the final table and he slid the chips into the pot without even looking at his cards. The hand continued between other players and when the cards were flipped up, he was sitting on pocket kings! After tripling up, he took on the Donald Glaude's big stack. This was no easy challenge though because Donald was cleaning up the table and winning about every hand he saw. After "Irish" Steve was eliminated in 3rd place, Chris went head-to-head and capped the most amazing comeback of the year with a championship victory for October.
The great comeback was not the only amazing feat during the evening as Jim Moorman managed to catch the first ever seven-of-a-kind during a game of follow the queen. That wasn't his only good hand though because he managed to become the biggest money winner of all time for the open event. Of course we can't forget the bounty on Dan "The Man" Shahin's head. The last time it was on his head, he went out in dead last, but this time he hung around a bit longer until Mike Lassalle was able to boot him out.
See all of you in November!