Mike Allen Has The Mojo! - 10/2/10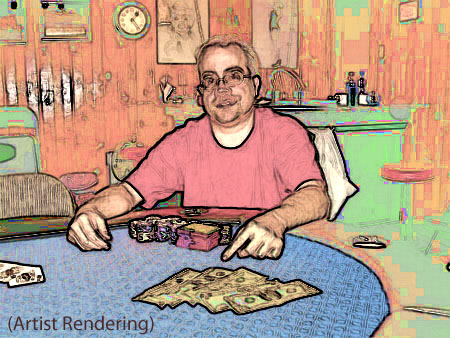 Well, I totoally forgot to take the picture for the October Little League World Series! Instead, we all get to enjoy this fabulous artist rendition of Mike Allen's winning pose. You can't really blame me for not remembering to take the picture because I was absolutely amazed by the show that Mike gave us this month!
With three tables still in play, Mike got his chips in with AJ vs. AA and the board saved his tournament life with broadway. After that, he was off to races! He made all the right poker moves at the final table but he found himself all-in with dominated hands at least three more times before catching just the right cards to survive. To sum it all up, Mike had the poker mojo on his side and when you have the mojo, you also have the victory!
Amy took a few shots at her husband in head-to-head action but it just wasn't her night and when Mike put the final beat on her, it was probably a long ride home.
It was another fun tournament with 28 total players and with that, we are down to the last two games of the season. Who will have the mojo next?