Jim South Predicts His Victory! - 10/07/06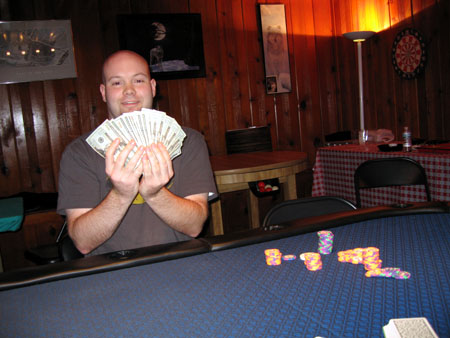 The October Little League World Series featured play on the brand-new suited speed felt now in place on both tables. Jim South was pretty confident about his game after winning some online action and he predicted good results for the tournament. He hit the new felt and didn't stop until he had all the chips, along with the October championship!
During the open, there was some good action on the first table where both Jim and LA! finished with big stacks. On the other table, Dan took down the high hand bonus with a full house. Everyone was looking forward to the tournament though and the competition for the final eight top players is heating up.
Tournament play was pretty steady until the table was reduced to the final three players and then the pace of the game slowed. After Steve Pait was eliminated in third place, Mike Lassalle and Jim South went head-to-head. Only a few hands later, South capped a great tournament with the win.
There are only two more games left on the schedule, so the last chance to move up on the points board is coming up! See all of you next month!