Brian Garcia Sweeps November! - 11/03/07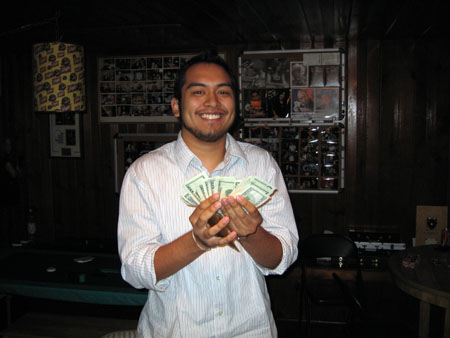 When play got down to the last five players, the November tournament got pretty interesting! It seemed like every player was on the verge of going out, but the chips just moved around the table as each person made incredible draws. At one point Brian Garcia and Chris Johnson were all but dead, but each recovered until they were the final two at the table. After picking up the bounty earlier in the game, Brian also managed to survive all the bad draws until final victory.
November was a great month, not just because I was able to eliminate Dan with a great suck out, but also because player favorite Donald Glaude survived to the final table. JP Rebozzi, our 8th grade player also talked some trash at the tournament table, only to be knocked out first. That didn't get him down though because he managed to turn a borrowed bankroll into a profit at the cash game.
The big December potluck game is next on deck, so make sure you can make it to the biggest game of the year! The game is scheduled for Saturday, December 1st, and you'll want to get there early to enjoy the food. For the newbies, each player brings a dish that is based on their initials. Based on that, Steve Moorman would bring Swedish Meatballs etc. See you all for the holiday gathering!