Fancy Dan Fancies First Place - 11/8/08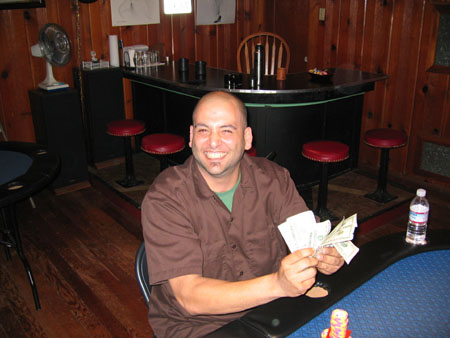 Fancy Dan has been talking about taking down first place in the Little League World Series of Poker and November was the month! He worked up a big stack before heading to the final table, but lost some momentum once the tables merged down to one. Other players were getting the big hands but Dan dodged and weaved his way to a head-to-head victory against Ken Low.
Despite settling for second place for in back-to-back months, Ken managed to pull the hand of the night with Kevin "All-in Wu." Both players got the money in the middle with AK offsuit, and after Kevin called a chop, the flop came with two hearts. Kevin then announced that running hearts would beat him, moments before a fourth and fifth heart hit the board. And THAT was the end of Kevin!
Next month, we'll be having the annual Holida Gathering and poker tournament. Players bring a potluck dish based on their initials and the food/games begin at 6:00pm. The game will be on December 6th and this is the one to arrive early for!