Dr. Bell Takes Third Title! - 12/02/06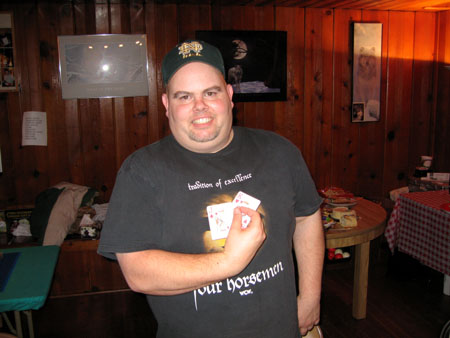 View The Final Hand!
In order for Dr. Bell to catch up to the points lead, he had to come in first place in the last two games of the season. As tough as that is, Mike managed to top the field in consecutive months and finished the season tied for first place!
The annual holiday gathering gave us a great tournament, but poker was delayed while everyone hit the food table. This year, the dessert tabkle was a big hit, and creative dishes kept everyone entertained (and full!)
The top eight players are now confirmed and they will play in the "Final Eight Game" on Saturday, January 6th. We're all hoping that Damon decides to play his pocket twos with his now famous all-in gusto. It's going to be a good game!
This next season, we will begin the open at 6:00pm and the tournament will start at 9:00pm with players receiving $3,000 for the buy-in and $1,500 for the re-buy. We will also begin sign-ups for the new head-to-head tournament that will take place over the entire season.
See everyone in the new season!