Final Tournament for 2005 Season! - 12/03/05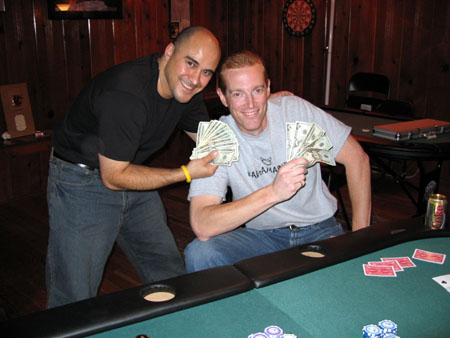 After enjoying some great food at the annual Holiday Gathering and Poker Tournament, sixteen players sat down for the final tournament in the Little League World Series of Poker. At stake was the prize money and the top eight spots on the 2005 points board. The final table gave us some great action, but the best poker came down to the final two players. After gaining some serious momentum, "Irish" Steve eventually was knocked out in second place by Teymour, the final winner for the season.
After a full year of play in the series, "Irish" Steve's second place finish secured the points championship and a prize of $80 for the title. Ken Low finished in second place after a great year and wins $40 for the effort while Damon wins a super-secret mystery prize for taking third. In January, the top eight players on the points board will be invited to the $30 LLWSOP points shootout! That game will start at 7:00pm, so check the board for your position. All other players can watch the action or play in the open games.
Points Champions
1st place
"Irish"
104 points

2nd place
Ken100 points

3rd place
Damon
87 points
January will be the beginning of a brand-new season for the LLwSOP! The points board will be set back to zero and the monthly tournaments will offer a new re-buy feature! For all of us who have managed to go out first in the tournament, this will be an exciting chance at redemption!
See everyone in January!