Afshin is the Final 2004 Winner! - 12/04/04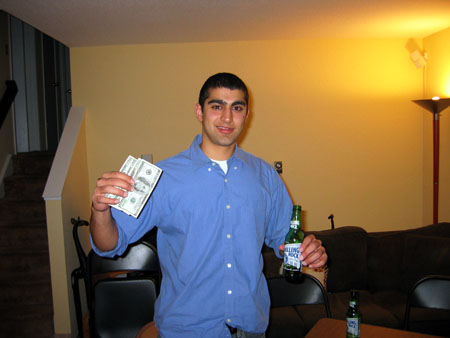 The last time that Bibi brought someone over to play cards, he won a pile of money and then quickly made his exit. We didn't think it would happen again, but cousin Afshin managed to survive sure elimination more than a few times while building up a nice stack at the tournament table. After eliminating two players in the same hand with a straight on 5th street, it seemed that only Dr. Bell had a shot at the chip leader.
Joe mounted a small comeback towards the middle of the game, but that run ran out of gas ending in elimination. Without "Second Place LA!" in the tournament, Afshin went head-to-head with Dr. Bell and eventually knocked him out with his patented straight move.
In poker, it always seems to be lucky to be the new guy, but great luck might also have something to do with knowing Bibi. We might just have to keep an eye on her future guests...