Mike Allen Finishes Year With Victory! - 12/4/10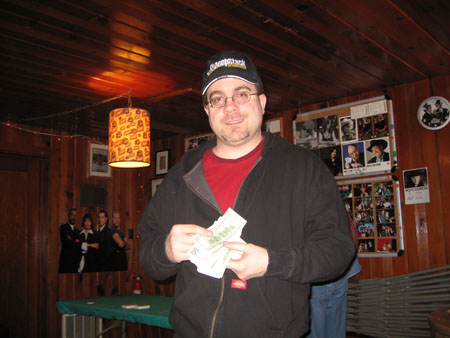 The December Holiday Gathering and Poker Tournament brought out a big crowd and the tournament expanded to four tables. With the big lineup, it was going to take more than luck to make it to the top and Mike Allen had the skill to take down the top prize. In head-to-head action, the hand that decided the game began with a raise from Mike. Shahin eyed the chips in the middle and then raised all-in. Allen went into the tank before calling and turning over J/7. Defeated by the call, Dan turned over J/6 and lost the showdown. Dan was soon eliminated in second place, giving Mike the victory.
Highlights of the December tournament included special appearances by Tabi and Teymour, who made a special trip out for the game. We also had our fastest ever elimination in a re-buy game when Kevin All-in Wu was sent to the rail after the first two hands! The previous record was held by Irish Steve who went out in the very first hand vs. Donald Glaude before the re-buy was instated. Ed Edens had the most popular food item when he used his initials to create the "enormous eclair" which was not very large by the end of the game.
The final eight players are highlighted in points column on the right. These players must arrive promptly at 5:00pm for the championship game on January 8th. Alternates will be seated! The new season will begin at 8:00pm on the same day.