Jeff Mazzella Closes Out 2009 With a Win! - 12/05/09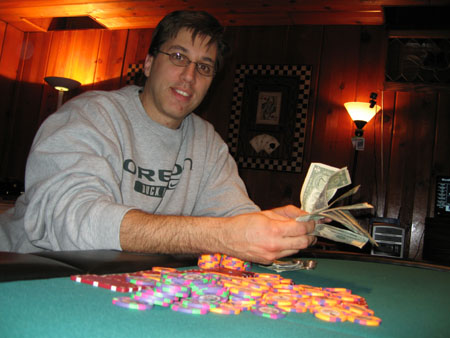 If you stuck around for the final table of the December game, you were rewarded with what Dave Sigua called the best hand of the year! Dan Shahin flopped a ten high straight vs. Steve Pait and it didn't take long for all the money to get into the middle. Steve turned over pocket aces, but Dan had a commanding lead with the made flop. The turn card paired tens on the board and then Dave announced that an ace would win it. Without delay, the ace showed on the river and Steve hit his runner-runner full house!
With the final points for the 2009 season up for grabs, the December game turned out to be pretty competitive. Brian Garcia came back from the felt to make a run at the top spot, but head-to-head action came down to Jeff Mazzella and Irish Steve. Jeff ended up taking down the tournament, but the good finish gave Irish the points championship for the season.
The top eight points leaders are now listed and for the second year in a row, Damon the Duck of Death Rivera has the unlucky spot on the points bubble. The final eight game will be held in January, so it should be a good way to start our seventh season of the LLWSOP!