Fancy Dan Repeats! - 12/6/08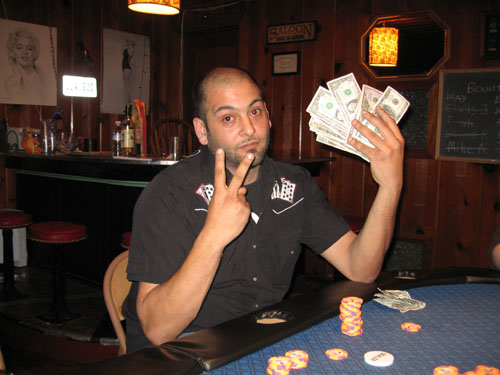 Competition was tight for the last few positions for the final eight points champions and Fancy Dan needed to win back-to-back tournaments to take the last spot on the roster. With a larger holiday field of players, it was going to be tough for Dan to win a second month in a row, but that's exactly what he did! After all the players enjoyed the annual Holiday Gathering potluck, it was down to business for the final game of the year.
Dan took down the December game by defeating Dave Sigua, who won the top spot on the 2008 points board with his second place finish. Dick Rebozzi came back from the ultra-low stack after a bad beat to make the cash while Kevin All-in Wu also cashed after proclaiming "I am the worst poker player!" for two months straight.
The final eight points leaders are now listed on the poker page. The new season begins on January 10th and these players should arrive at 5:00pm for the championship sit & go. Alternates will be seated, so come early if you are on the points bubble.
The 2009 season will feature a few changes. The tournament structure will feature an inverted re-buy, so you will begin with 3,000 chips and the optional re-buy will give you 4,000 more. The tournament will now begin at 8:00pm and the open will begin at 5:00pm so don't be late!