Mazi Wins By Proxy! - 05/06/06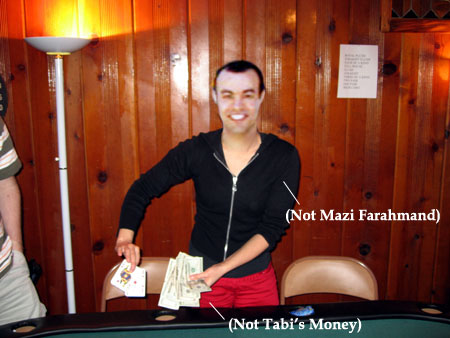 How many times has the "first time" player won? In poker, it seems to be the rule and Mazi Farahmand proved it on Saturday by winning quite a bit during the open. The word is that "Poker for Dummies" is his golden book, but it might just be a touch of luck too. When Mazi had to go, Tabi played with his lucky chips and managed to take down the top prize at the no-limit tournament! It was the first time someone has won by proxy and since Tabi went out first with her own chips, she managed to take first place AND last place in the same tournament!
Jim South managed another first when he got caught with his hand in the cookie jar trying to bluff with 7/2 offsuit. Not only did he crack a pair of kings, but he won with a straight flush!
Next month the bounty will be on ??? Tabi or Mazi? I haven't figured that one out yet...