Shootout Turns Into Siege! - 06/03/06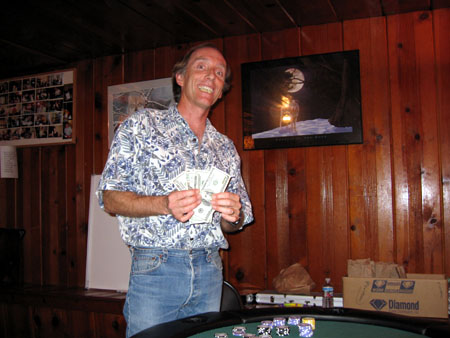 With several players out on summer vacation, it looked like the June tournament was going to be a shootout! Players turned out to be much harder to eliminate though and as the chips rotated around the table, the quick game turned into a siege. Eventually, the action caught up with most of the players and we were down to the final three after Lassalle was eliminated on the bubble.
Each of the final three players held the short stack at the end, but there was just enough luck to keep all alive into the higher blinds. After Irish was busted out, Steve Pait took the championship in quick head-to-head action with Shahin.
We're halfway through the season and there's plenty of time to accumulate points through the next six games. This year, there will be several prizes along with the top three finishers, so even if you aren't on top of the leader board, you still have a good shot at winning something!
Due to 4th of July celebrations, the next game will be on Saturday, July 8th! See you there!
P.S. If anyone wants to Join Damon and me at the WSOP in Las Vegas on July 25th, just let me know!