Year of Pierre Over, Allen Celebrates with Victory! - 6/14/08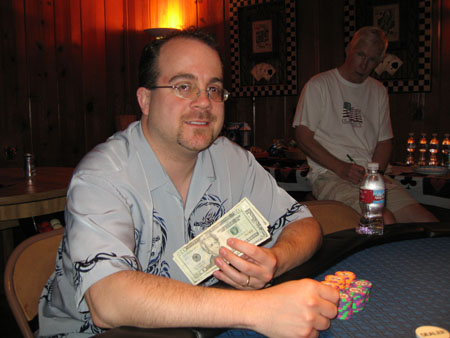 It's official. The year of Pierre is over. It's not like we didn't give it a chance, but fluctuations in the weather, various bird migrations and unknown political pressures kept Pierre away from the LLWSOP long enough for some players to declare, "The Year of Pierre is over!"
With that out of the way, Donald Glaude tried to back up his success from last month with another good finish, but his queens ran up against pocket kings and his night was over. Of course the year of Pierre would not be complete without a Fancy Dan extreme elimination, and fans were not let down when Irish Steve's nut flush draw cracked Dan's trip queens.
Speaking of cracking, Damon Ducks Rivera and Chris Hill both broke into the money for the first time this season and both of them dedicated their wins to Pierre. The final head-to-head action came down to Mike Allen and Dave Sigua and since Dave enjoyed second place so much last month, Mike decided to give it to him again for June.
Tune in next month when Kevin Wu promises to use his knowledge of the "click raise" to dominate the game!*
*Note: Your domination results may vary