Dick Not Disgruntled! - 8/2/08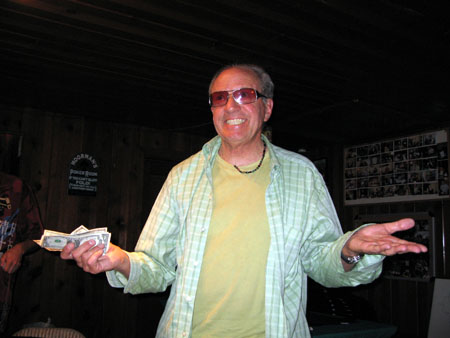 Poker certainly has a good deal of luck that you must contend with, but Dick seems to always have some sort of interesting (and painful) elimination each month. Since you have to wait an entire month to make up for it when you go out on a bad beat, you end up cursing the bad luck until you can redeem yourself.
This month, that all changed for Dick because not only did he avoid the bad luck but some good luck hit him at just the right time. After calling Gina's all in with AQ, he found out that he was facing pocket kings. With a king on the flop, it wasn't looking good even though Dick managed to flop an ace. Things got a little more interesting when the turn showed a queen and then the dreaded river popped up an ace for the full house! That beat gave Dick the chips he needed to survive to the final two and then to victory.
I would love to tell you that I'm advanced enough to not revel in the defeat of my fellow players, but I have to admit that it was good to see Gina lose some chips. She beat me on the slot machine, and then took most of my stack in the first three rounds when I lost five hands in a row to her. What's up with this chick? It's like I'm her personal door mat. And of course, I was hoping to push Dave into the role of LLWSOP janitor for cracking my pocket queens (not that I'm fixating,) but I had to settle for his falling short of the cash by a single $500 chip. Woo! HAA! HEEEE! Hooo! Heh. Hmm.
I'm working on being a being a better person, so next month I'll go back to just giving Dan a hard time.