Jacen Rivera Takes Title in August! - 08/12/06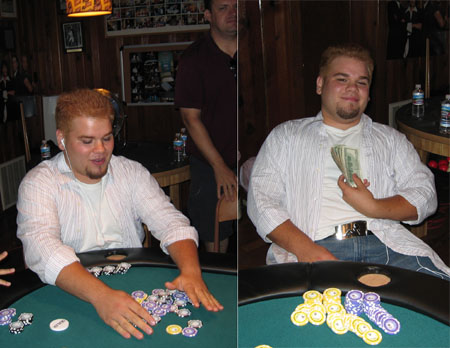 The August Little League World Series of Poker brought out the most players that we have had in one tournament this year. With only four games left in the season, everyone was hoping to finish well in the big game and take down some points for the leader board.
Mike "Dr." Bell was able to collect the bounty as Dan "The Man" Shahin cracked under the pressure and went out early. Only a few people went out in the early rounds, but as the blinds increased, the field narrowed to the last nine players.
Play at the final table started off tight and Mike Lassalle was able to shed his previous "bubble-boy" finish to find himself in the money this month. Three-way action featured a shootout between Teymour, Irish Steve and Jacen. After Teymour was eliminated, head-to-head action came down to just a single hand where Irish Steve's AQ was beat when Jacen flopped a straight with J9.
The poker room is now featuring new lighting, the new poker machine and also the fabulous Copag cards! Everyone is already looking forward to the September game and hopefully we'll have another great event!