Chris Johnson Wins With Double Elimination! - 11/6/10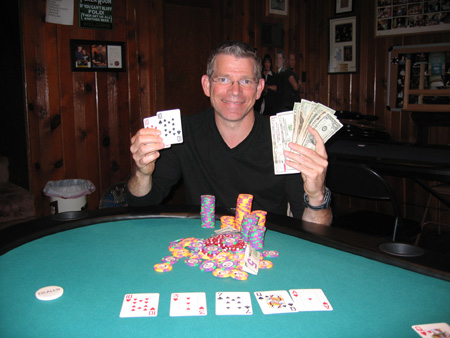 For those who stuck around for the finish of the November tournament, they were rewarded with the best finish ever! The game was down to three players, Steve Shuffleboy Pait, Bonnie Edens and chip leader Chris Johnson. Steve Pait was all-in with pocket sixes, Bonnie called with ace/queen and then Chris took on both of them with pocket tens!
The flop rewarded Bonnie with aces up and it looked like Steve would be eliminated in third while Chris doubled up Bonnie. The turn gave no help to the pocket pairs, but the turn gave Chris the magic two outer ten that he was looking for! With the turn of a single card, Bonnie and Steve were finished and Chris secured the win with a double knockout!
The December game is here at last! Not only is it the final game of the season, but it's also the annual holiday gathering potluck game. You can bring anything, but players traditinally bring something that contains their initials. One of my favorites was the jello shooters brought by Jim South. Everything starts at 5:00pm, so come early and enjoy the food!