May Closes 2007 Season With Victory! - 12/01/07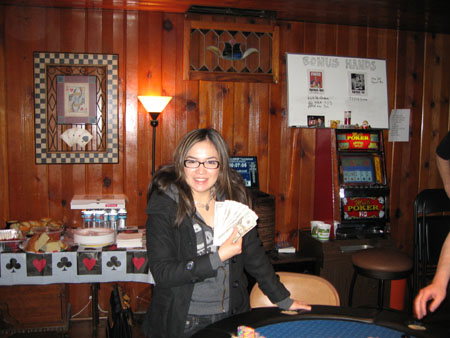 Decembers means two things for the Little League World Series of Poker. It's time for the annual holiday gathering and potluck and it also means the final game of our season. This month, we celebrated our fourth full year of the LLWSOP with a great game and lots of food! The highlight of the potluck items was the Jello Shooters courtesy of Mr. Jim South, but everyone did a great job on the food items for the game!
This was the final chance at moving up on the points board and many of the top players were out of the competition before the final table was seated. The final two came down to May Patio and Mike Allen and after a good head-to-head game, May came out as the champion for the last game. Dick Rebozzi capped a great season with the points championship with a total of 149 points.
Next month, on January 5th, we'll begin our 5th season of the LLWSOP on January 5th at 6:00pm with the Final Eight game between: Dick, Jim South, Amy, Chris Johnson, Gina, Damon, Irish and Shawn. The game will be a $100 free-roll for bragging rights on the 2007 season. Please don't be late for the game as alternates will be seated in your place.
Stay tuned for the evite and more details on the next season!